A custom tracking domain is used for generating campaign, click, postback, impression URLs, also conversion pixel, impression pixel, landing page pixel with your own domain. While testing you can use BeMob system domains - bemobtrk.com, bemobtrcks.com, bemobtracks.com. When running actual campaigns, a custom domain is required.
The amount of custom domains that can be added in your BeMob account depends on the pricing plan.
You can add up to 5 custom domains on free Basic plan. If you need more domains, it is required to upgrade the subscription. More details see on our pricing page.
¶ Why Adding of Custom Domain Is Required
When running an actual campaign it is always highly recommended to set up a custom domain. Here are the following advantages when using a custom domain:
a custom domain belongs to you and is not shared with others;
a custom domain can not be affected by the actions of other BeMob users;
a custom domain can be used to customize your tracking links: campaign URL, click URL, impression URL etc. This can be done on the level of your account or for a campaign selectively. More details on these settings are provided at the end of this guide.
To set up a custom tracking domain with BeMob it is required to configure CNAME DNS record.
CNAME record will allow to connect your custom domain with the BeMob system.
¶ Domain Settings on the Side of Registrar
A general guide how you can configure and add a custom tracking domain to your BeMob account is described below:
Purchase a domain. If you don't have a domain yet, it is required to buy a domain, for example, testdomain.com and make sure that it is ready for further configurations.
There is a large number of domain registrars where you can buy a domain, e.g. GoDaddy, Namecheap, Cloudflare.

Create the subdomain for the primary domain, for instance, go.testdomain.com , track.testdomain.com
Any word or phrase on your selection can be used for the first part of your domain, if this hostname is not used by any other user on the internet.
However if you're planning to use this primary custom domain (e.g. testdomain.com) for tracking purposes only, then you can set it in BeMob without adding a subdomain.

Log into BeMob panel. Go to Settings → Domains.

Press Add custom domain button.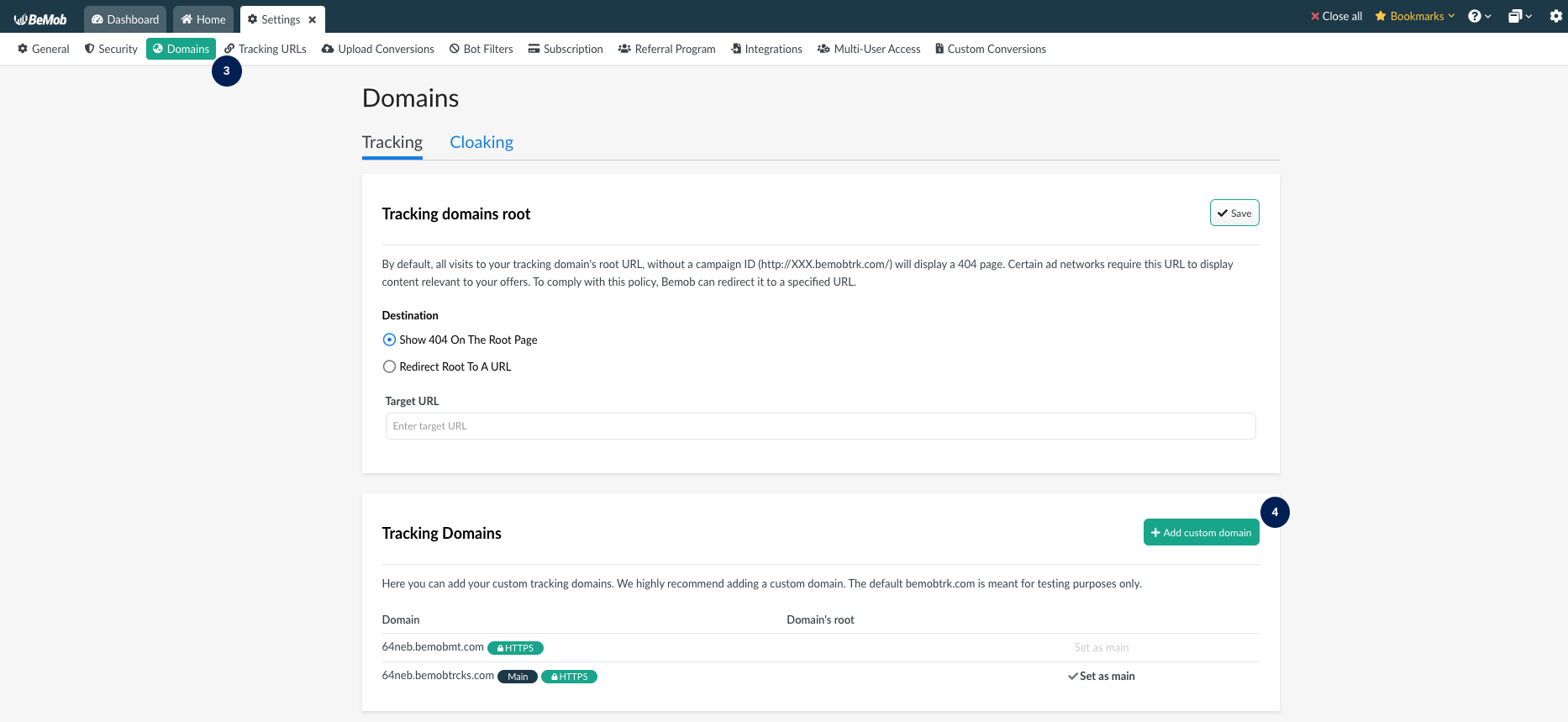 Find your default domain in BeMob and copy the record.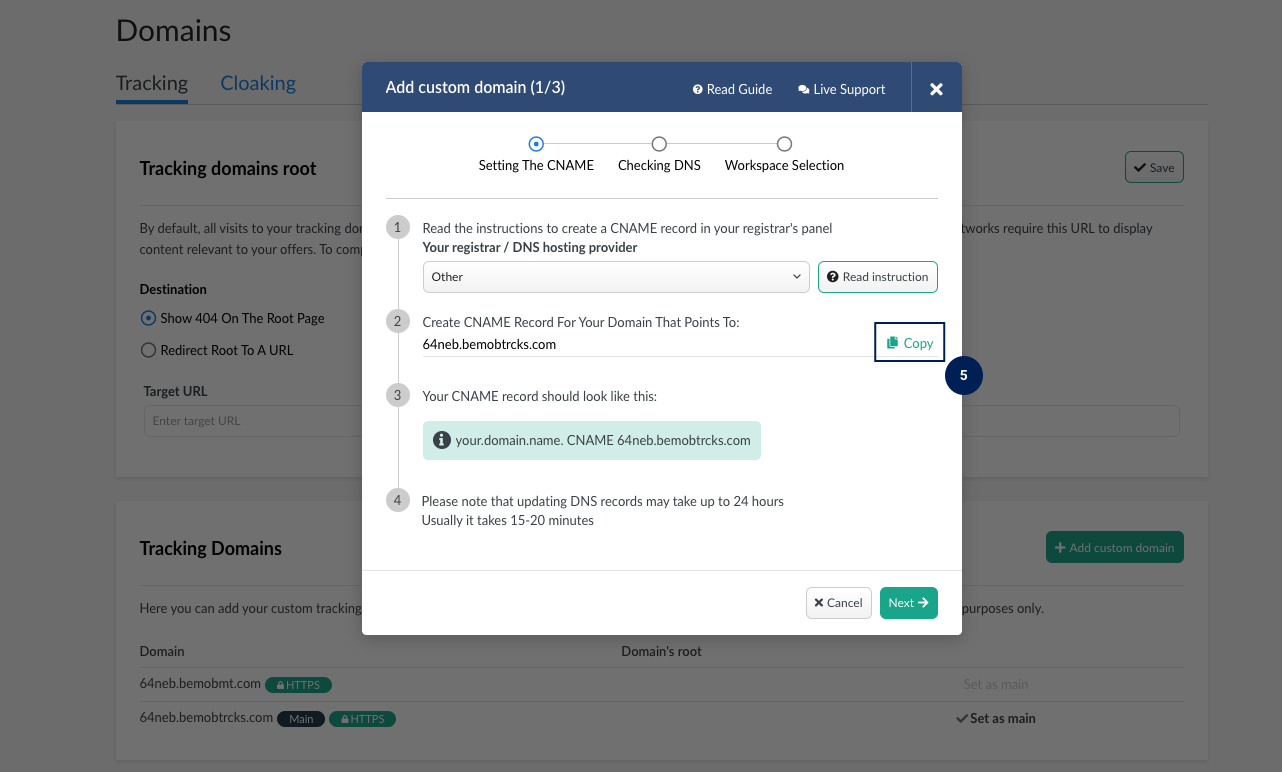 Go back to the registrar's side and set up a CNAME record on the subdomain pointing to your BeMob domain.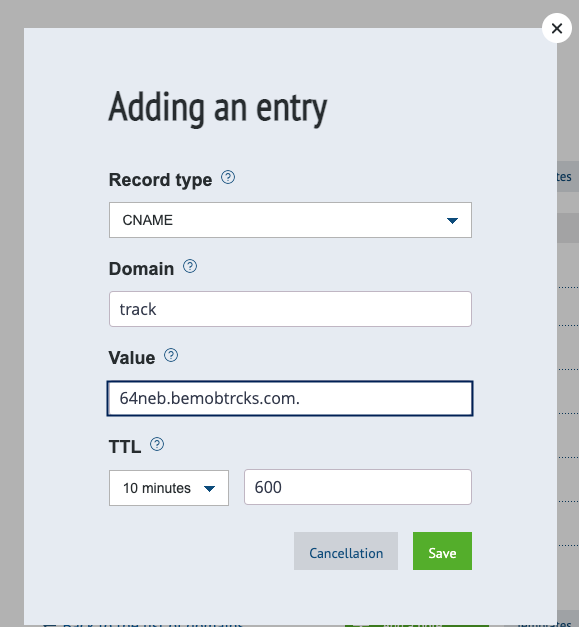 It is very important that your custom domain points to BeMob system domain bemobtrcks.com, not the other way around.
Copy the CNAME domain record and move back to BeMob account.
¶ Domain Settings on The Side of BeMob
Go back to Settings → Domains in BeMob panel.

Press Add Custom Domain button.

A new window with the domain settings will appear.
Select a domain registrar or DNS hosting provider.
In the drop-down list you will see the popular providers: Namecheap, GoDaddy and Cloudflare. If your domain is purchased from one of these registrars, you should select one of them.
Select Other if your domain is not configured with Namecheap, GoDaddy or Cloudflare.
Read Instruction button will redirect you to the dedicated guide on domain settings with Namecheap, GoDaddy or Cloudflare.
Press Next button.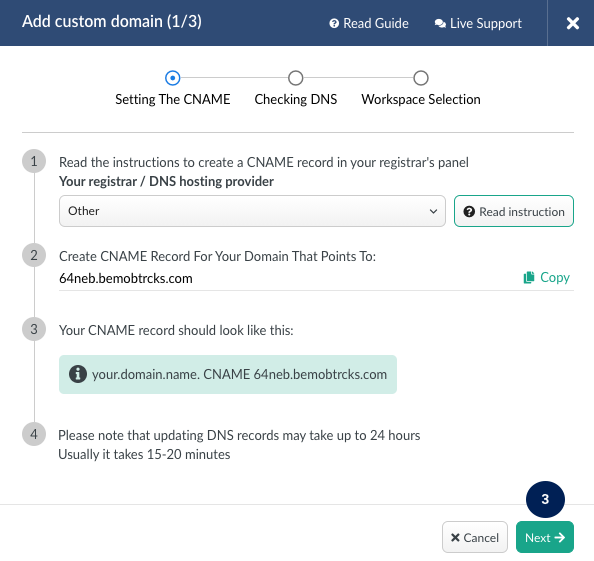 Insert your custom domain into new field and press Check DNS button.
If you domain has been configured with '.' , it is required to remove this sign when adding it into the domain field on the side of BeMob.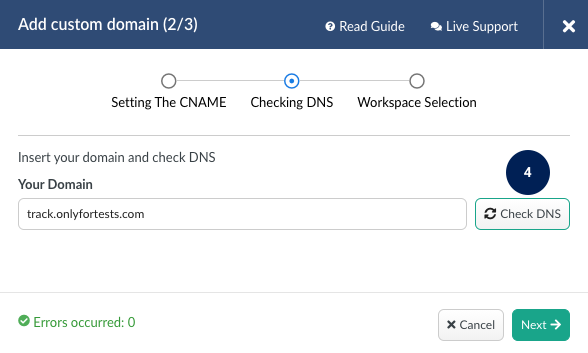 If DNS settings of your custom domain are correct, you will see the following message: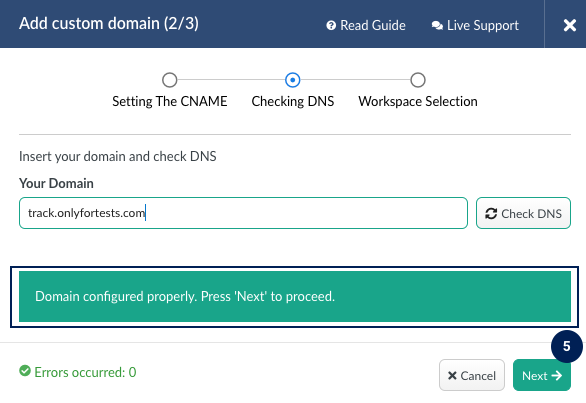 If domain record is set up incorrectly, the following message will appear: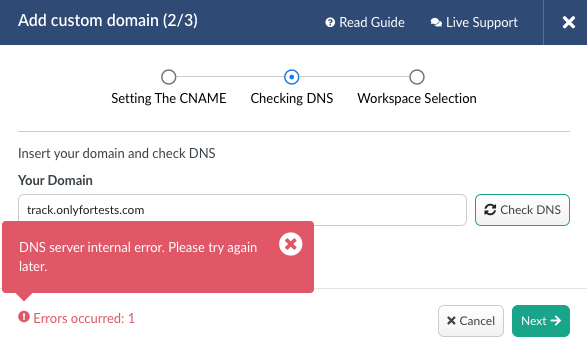 After Next button is clicked you will be redirected to Workspace Selection step.
Workspaces help to separate all the working processes into areas. Along with the Users Management this option allows to organize and manage the campaigns and elements smartly.
If you are not using the workspaces option actively, leave Master selection as default.
➡️ Learn more in our Workspaces guide.
Press Add Domain button.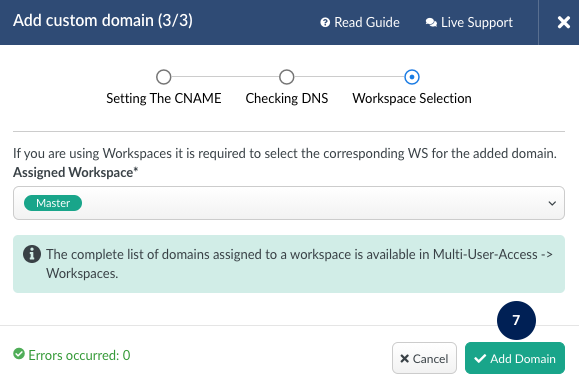 Your custom domain will appear in the list along with other system domains of BeMob.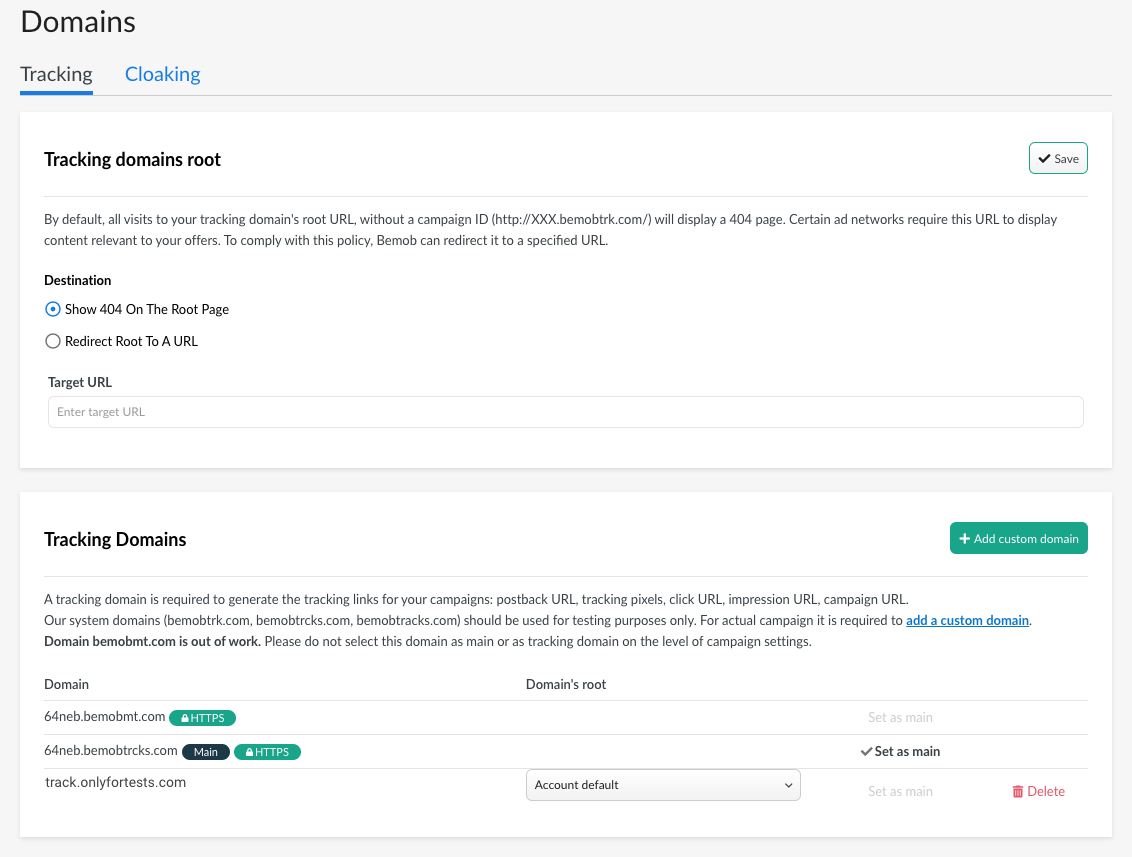 The SSL certificate will be automatically available for your custom domain within 5-20 minutes after you add the domain in BeMob. If a certificate is not available within an hour, contact our support team via live chat or at support@bemob.com
SSL certificates for custom domains are free.
¶ Selecting Domain as Main on The Level of Account Settings
If you wish to set up the custom domain for all the tracking links in your BeMob account it is required to click on Set as main next to the custom domain.
After the domain is configured as main you will see Set as main next to the custom domain record.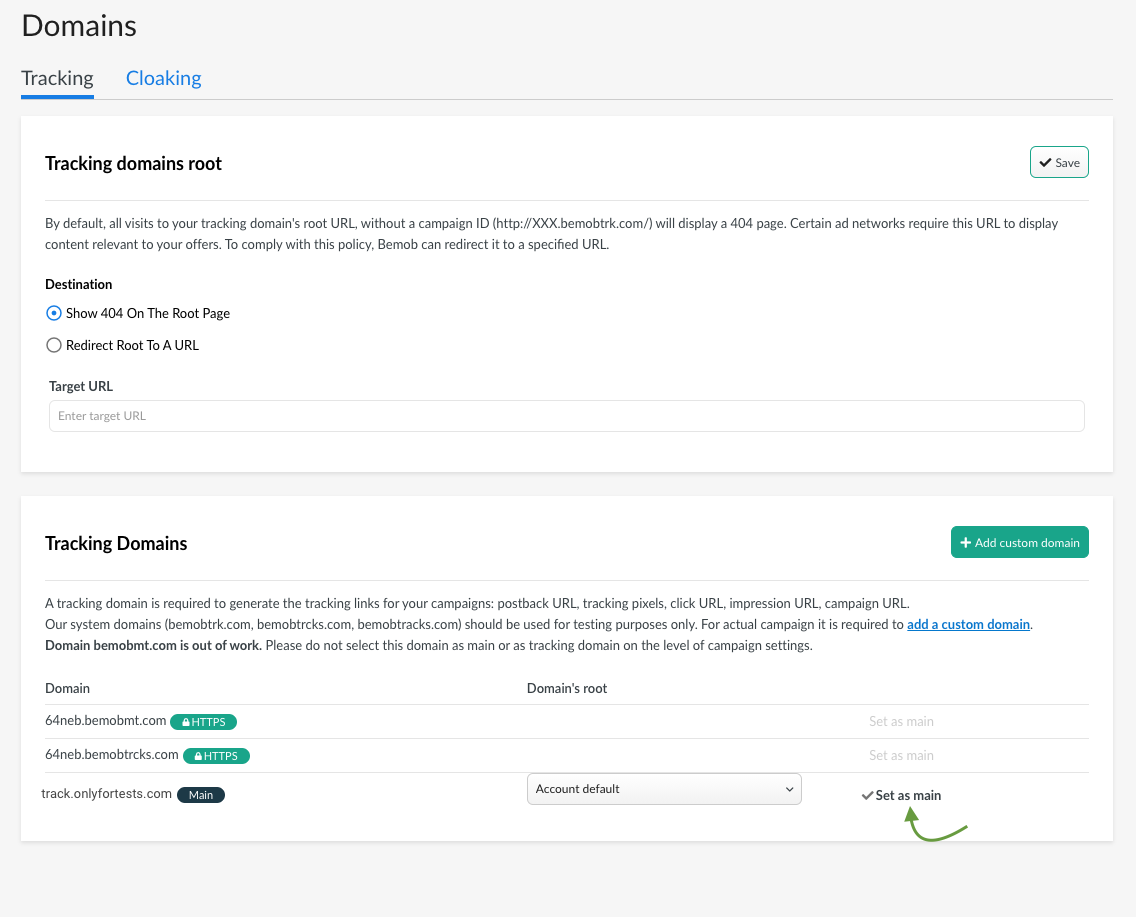 In this case your custom tracking domain will be visible in all the tracking links of your account.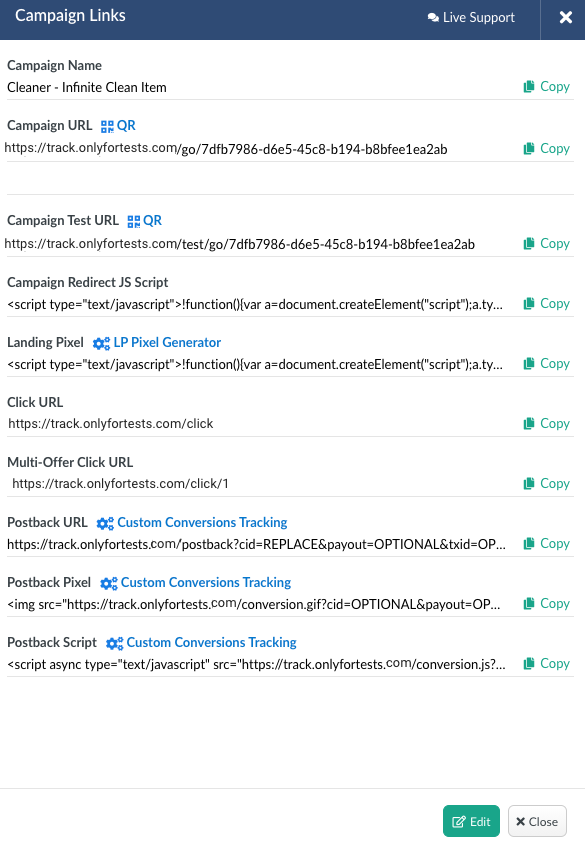 ¶ Selecting Domain as Main For One or Several Campaigns
It is also possible to select custom tracking domain on the level of campaign settings. In this case this domain will be set as main for a one or several campaigns for which you select this domain.
Go to Campaigns tab -> select the required campaign -> Edit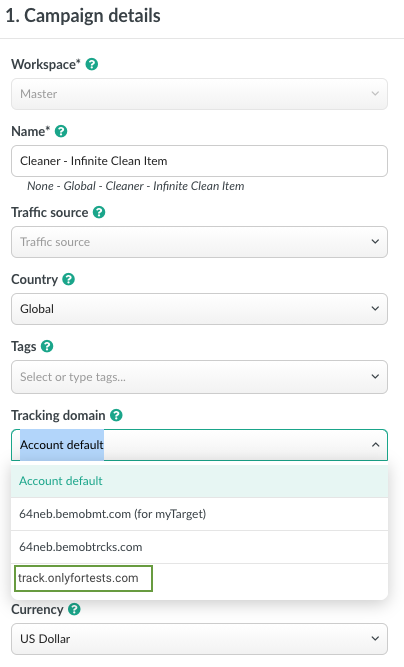 When selecting a domain on the level of campaign settings, it is required to make sure all tracking links and pixels (Campaign URL, Click URL, Landing page Pixel, CTA URL, Conversion Pixel) are available with this custom tracking domain.
At the same time it is possible to use default BeMob domain in Postback URL even if you selected custom tracking domain in campaign settings.
Consider for reading other guides on domains settings to expand the knowledge:
⚙️ How to Set up a Custom Cloaking Domain
⚙️ Setting Up a Domain From GoDaddy
🛠 Setting Up a Domain From Namecheap
☁️ Setting Up a Domain From Cloudflare
If you have any questions or need the assistance with the settings, contact our support team through the live chat or at support@bemob.com