Admin is a teammate who is granted with the same rights as Account Owner.
The access is only restricted to Domains, Subscriptions, Referral Program, Global Bot Filters and Manual Conversions Uploading sections.
By default Admin has the access to Public WS which is a commonly shared space.
As an Admin you will be able to access your BeMob account as soon as Account Owner provide you with the following details:
Login and password.
Login URL - the dedicated link which contains the account ID.

Admin has the complete access to all workspaces and elements assigned to him by Owner.
The access is unlimited to all the campaigns, campaigns elements and their reports.
It is also possible for an Admin to archive and restore the elements within the Workspace assigned to him.
Once the campaign or its element is archived or restored from the archive in the Admin account, this element will dissapear or appear consequently in the reports of Owner and other members who are sharing the access to the WS.

Admin has the access to the historical data on the report of the element.
For instance, if an Account Owner is running a campaign by himself and then shares the access to this campaign with Admin, the Admin will be able to see all the previously reported data.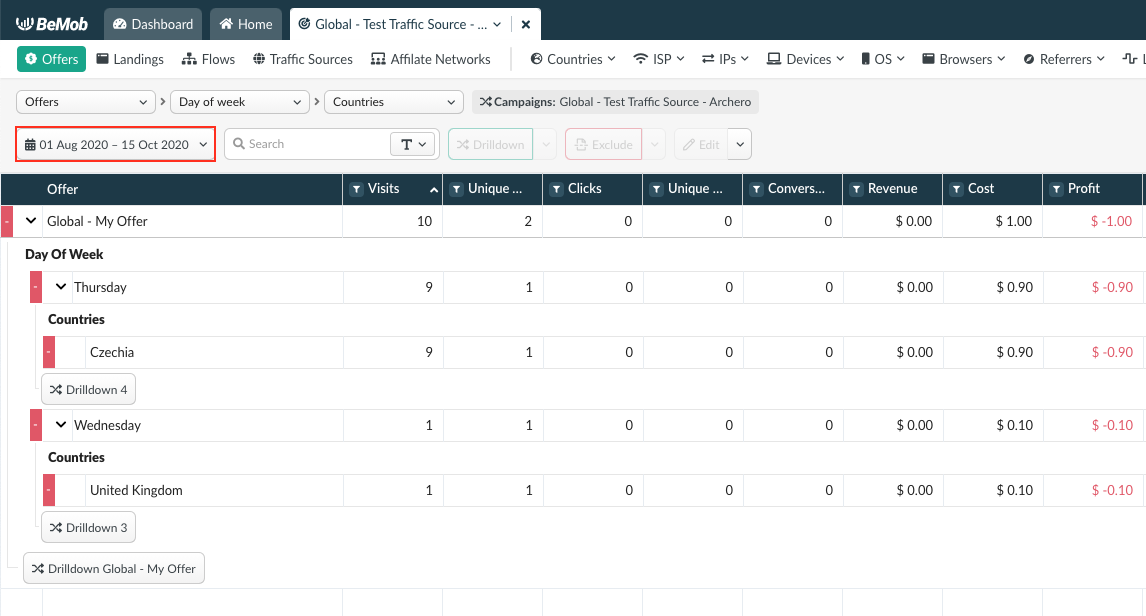 Admin can update the cost manually to adjust the traffic cost for the selected period in a campaign.

All the changes introduced by Admin will be affecting other team members including Account Owner and other users who share the same WS.
Even with the privileges described above Admin has no right to:
Upload conversions manually
Change redirect settings in Settings (General -> Redirect)
Set up bot filters
Invite referrals
Add custom domains
Access the subscription section
Change the view of campaign name using 'Show Country Name In' and 'Show Traffic Source Name In' option.
If Account Owner activates Hide Profit option on the Workspace level Admin will not be able to see the following data in his account in terms of the selected WS:
conversions number
profit
revenue
ROI
EPV
EPC
AP
CV
CV 1/X
CR
CR 1/X
Admin can have an access to Conversions report and see the conversions number even when profit and other related metrics are hidden if Show Conversions option is activated by Account Owner.

If you have any questions or need the assistance with the settings, contact our support team through the live chat or at support@bemob.com